10 Tips to Minimize Pain During Mammograms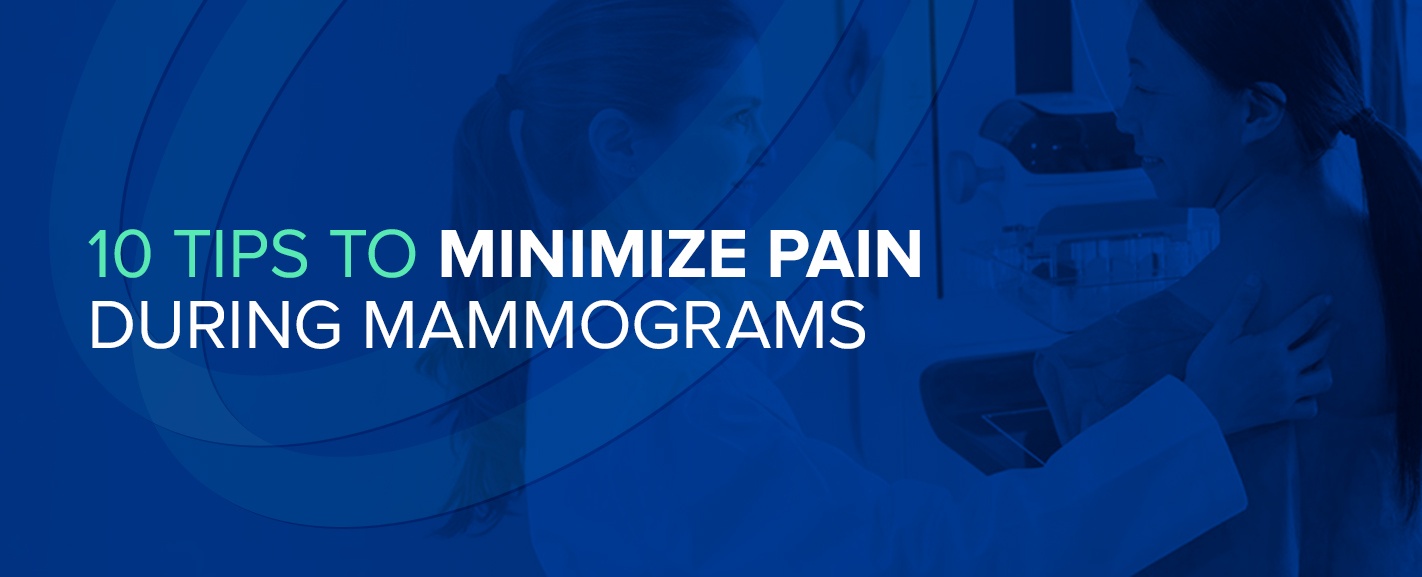 Mammograms are life-saving tools that take detailed x-ray images of your breasts. Mammograms reveal indications of early-stage breast cancer, significantly increasing your chance of defeating the disease.
Finding these early signs of breast cancer is well worth the few short moments of pain some women experience during their annual mammograms. Here, we'll outline some of the best pain relief tips you can use before, during and after your mammogram to make your experience more comfortable.
Ways You Can Make a 3D Mammogram Less Painful
During your appointment, your doctor will ask you to undress from the waist up and stand facing the mammogram imaging machine. Next, a technician will carefully position one breast at a time between two imaging plates and apply gentle, gradual compression. Some women find this step uncomfortable, but breast compression allows for the most accurate readings and results.
Various factors account for the pain some women feel during mammograms, such as:
The technologists' skill level.
Your anxiety about the mammogram.
Your breast size and structure.
Your pain tolerance.
If you've had a mammogram before, you're likely familiar with the mammogram process and how your body responds. If you haven't, remember that discomfort is normal and will only last a few moments. Fortunately, there are ways women can reduce mammogram discomfort.
Before Your Appointment
From scheduling your appointment to the hours before imaging, consider these tips for relieving mammogram pain.
1. Avoid Scheduling Your Mammogram Before or During Your Menstrual Cycle
Before and during your menstrual cycle, your body undergoes hormonal changes that make your breasts feel tender and sensitive. Schedule your appointment when these hormonal changes are least likely to bother you, about seven to 14 days after your first day of menstruation.
2. Tell the Scheduler About Your Needs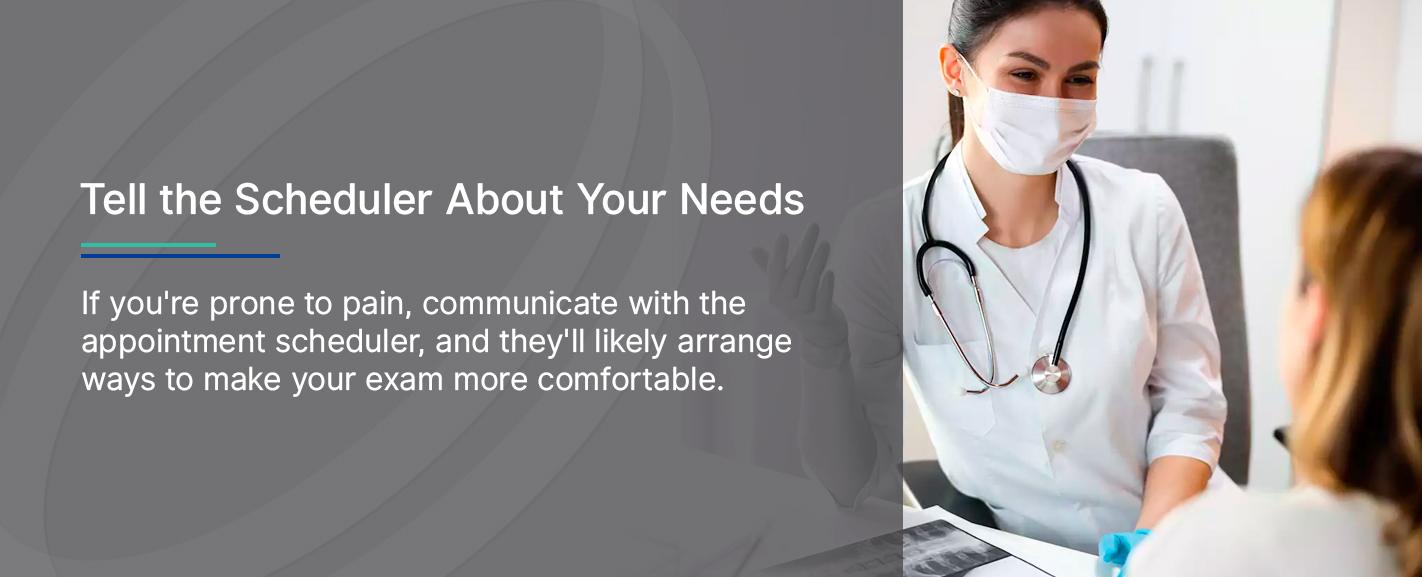 If you're prone to pain, communicate with the appointment scheduler, and they'll likely arrange ways to make your exam more comfortable. Often, schedulers will dedicate more time to your appointment, allowing your technologist to take extra measures and ensure your comfort.
Women battling chronic pain are particularly prone to experiencing discomfort during mammograms. Ask the scheduler if they have a technologist equipped with the skills to treat people with chronic pain or a technologist who struggles with chronic pain and can sympathize with your needs.
3. Schedule an Appointment With a Technologist You Like
If you're returning to an imaging location you've visited before, request a trusted technologist who delivers care suited to your needs. Know that you may experience varied pain levels every appointment, but some technologists have more experience working with pain-prone patients and can deliver more consistent comfort. At Health Images you can be assured that all our experienced technologists take pride in delivering compassionate care.
4. Decrease Your Salt Intake
Try to limit the amount of salt you consume about a week before your appointment. Salty foods increase your body's water retention, causing your body and breasts to bloat and become more susceptible to discomfort during compression.
5. Avoid Caffeine
Likewise, limit the amount of caffeine — coffee, tea or caffeinated soft drinks — one to two weeks before your appointment. Consuming caffeine won't affect your mammogram results, but it can make your breasts feel more tender.
6. Take a Pain Reliever
You may consider taking an over-the-counter pain reliever 45 to 60 minutes before your appointment. You can take aspirin, Tylenol or ibuprofen before a mammogram to lessen the discomfort you may feel. Using topical numbing creams before your exam can interfere with the accuracy of the x-ray image.
Schedule a Mammogram at Health Images
During Your Appointment
The mammogram process usually lasts around 20 minutes from start to finish. During your appointment, here are some of the best pain relief tips for mammograms.
7. Communicate With Your Technologist
Communicate any nervousness, chronic pain or low pain tolerance you may experience to your technologist, and they'll adjust, as necessary, to make you more comfortable. Your technologist will thoroughly outline what you can expect during the appointment, as well as talk you through any pain or anxiety you may feel.
8. Request a Gradual Compression
Communicating with your technologist will help them make minor adjustments to how they perform the monogram imaging. Request a slow, gradual compression, which can be less jarring than a sudden compression. Additionally, your technologist will give you more time to adjust and regain comfort before compressing the other breast.
9. Practice Calming Techniques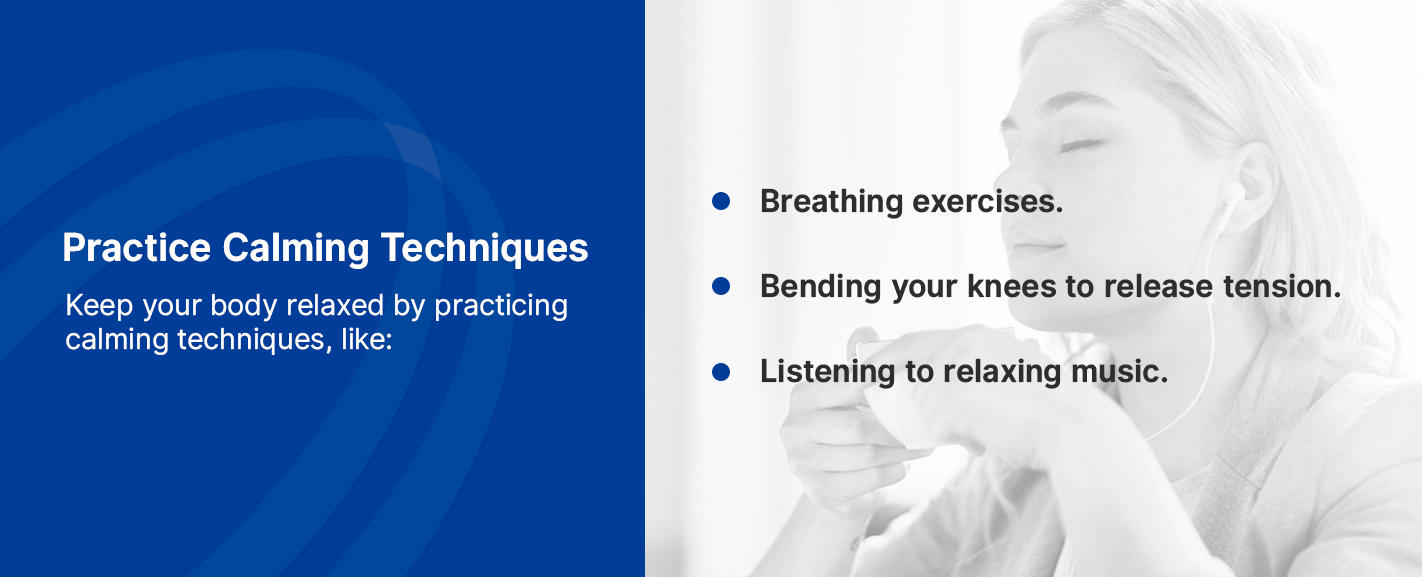 The nervous anticipation of the mammogram imaging process can make your body tense, resulting in a less comfortable appointment. Keep your body relaxed by practicing calming techniques, like:
Breathing exercises.
Bending your knees to release tension.
Listening to relaxing music.
Before your doctor gradually compresses your breast between the imaging plates, take a deep inhale, then slowly exhale as you feel the compression. Comfortably hold your breath for a few seconds while the machine takes your image, which reduces nervousness and encourages a clearer image.
After Your Appointment
You can return to your typical daily routine after your appointment. Most women don't experience any pain after their mammogram, but it's not uncommon for some women to report soreness or tenderness for the rest of their day. A smaller percentage of women may experience bruising, especially women on blood thinners or those who are naturally prone to bruising.
Though mammograms can feel uncomfortable or painful, your pain level should not be severe enough to deter you from future imaging. If so, talk to your technologist, and they'll discuss mammogram pain relief strategies for your next appointment.
10. Wear a Padded Sports Bra
If you're experiencing tenderness after your appointment, you may find wearing a padded sports bra to be more comfortable than an underwire one. And, if your pain persists hours after your breast imaging, consider taking additional pain reliever following the medicine's instruction label.
Schedule a Mammogram at a Health Images Location Near You
At Health Images, our priority is delivering the highest-quality care to our patients using the industry's latest and most accurate technology. We use 3D mammography technology, tomosynthesis, that takes a highly detailed, three-dimensional image of the breast and gives radiologists a clearer view of abnormalities.
We understand mammograms can cause some discomfort. Our technologists want to work with you to make your breast exam as comfortable as possible. When you schedule your appointment, let the scheduler know of any worries you might have, and we'll work hard to meet your needs.
Schedule a mammogram appointment at your nearest Health Images location in Denver, Colorado Springs and the surrounding areas.
Sources:
https://www.healthimages.com/what-to-expect-from-3d-mammogram/
https://www.healthimages.com/6-myths-about-mammograms-busted/
https://www.healthimages.com/why-you-should-schedule-your-mammogram/
https://www.healthimages.com/services/mammography/
https://www.healthimages.com/about-us/why-choose-us/
https://www.healthimages.com/locations/