Address & Directions:
9949 S. Oswego St., Suite #150
Parker, CO 80134

Phone: (303) 577-4000

Fax: (303) 577-4099

Get Directions
Hours:
Monday-Friday: 6:00 AM - 9:00 PM
Saturday: 8:00 AM - 4:00 PM
Sunday: MRI – By appointment only
Walk in X-ray: Monday-Friday: 8:00 AM - 6:00 PM

*Closing time and hours differ by exam type, please call center to verify or make an appointment.
Services At This Location:
Health Images in South Denver
Welcome to our Health Images South Denver location in Parker, Colorado. This location allows us to offer our world-class diagnostic imaging services to even more patients in the greater Denver area.
As we expand to meet the community's growing needs, we are positioning ourselves as your source for premier outpatient radiology services. Whether you're coming from work or home, our convenient locations make it simple to get the medical imaging you need.
Health Images is Colorado's most trusted name for reliability and consistency. Our friendly and professional team lives right here, making their home in the same areas where we serve. Proper diagnostic imaging is essential to the health of each person who comes through our doors, which is why we offer a variety of tests at our Parker location.
Whether it's a straightforward x-ray to check for a broken bone or a CT scan to follow up on your physician's diagnosis, our facilities are stocked with reliable, accurate and state-of-the-art equipment. We look forward to assisting with any of your diagnostic imaging needs.
Services offered at Health Images in South Denver
When you come to Health Images in Parker, you can rest assured knowing our modern facility is ready to meet any diagnostic challenge you may have. We stay ahead of the curve by outfitting our imaging centers with the most cutting-edge technology. Below are some of the services we offer in South Denver.
MRIs in South Denver
A magnetic resonance imaging (MRI) scan uses radio waves and magnetic fields for a detailed view of organs, bones and joints. This noninvasive technique serves a variety of applications, such as examining for tumors and cysts, joint injuries, breast cancer screenings, and brain or spinal cord anomalies.
Before the scan, you'll be asked to change into a hospital gown and remove jewelry, hearing aids and other metallic objects. You'll lie on your back on the examination table, remaining still to prevent blurry images.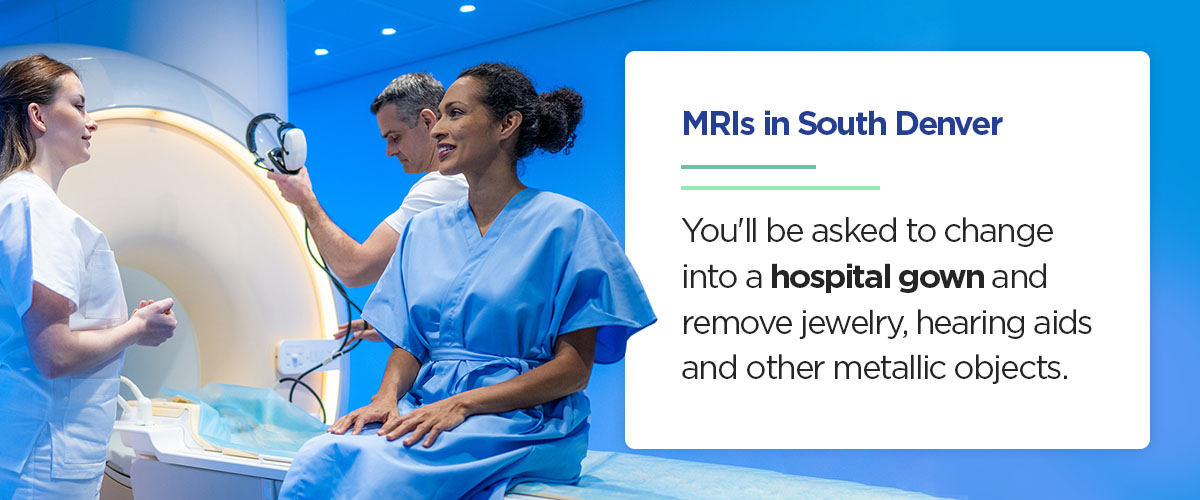 CT Scans in South Denver
A computed tomography (CT) scan captures imaging from different angles through a series of x-ray views, enabling three-dimensional representations of bodily structures. It provides clear images of soft and hard tissue in the spine, brain, abdomen, neck and chest.
These photos can help medical professionals make quick decisions when necessary. A CT scan can detect soft tissue irregularities or the spread of diseases like cancer. It can also help address unexplained symptoms like dizziness or pain.
You'll lie on your back on the CT table before your scan. A donut-shaped tube moves around your body, taking photos from different angles.
Ultrasounds in South Denver
An ultrasound or sonogram is used to view real-time movement and structure of organs and blood vessels. It uses high-frequency sound waves instead of radiation, making it safe to examine a fetus during pregnancy.
An ultrasound technologist uses a handheld device to release sound waves through your body. The ultrasound moves through soft tissue and fluids, bouncing back or echoing when it hits firmer material. These echoes produce the images. The denser the object, the darker it will appear.
Ultrasounds help diagnose many medical conditions and evaluate symptoms like swelling, pain or infection. Besides monitoring pregnancy, they can help anesthesiologists guide needles near nerves or assist procedures like biopsies.
X-rays in South Denver
X-ray imaging uses specialized equipment and electromagnetic radiation to produce images of the inside of the body. While commonly associated with bone breaks and fractures, x-rays also help diagnose conditions like cancerous tumors, arthritis, osteoporosis and blocked blood vessels.
Depending on the type of scan, you may be asked to sit, stand or lie down in several positions. A steel arm with a large camera moves over your body while collecting x-ray images.
Arthrograms in South Denver
An MRI arthrogram helps assess joint function to determine whether surgery is required. Doctors can locate joint abnormalities that standard imaging may have missed.
Before the procedure, a radiologist injects your joint with iodine or another contrast dye, using a fluoroscope for guidance. The dye coats the lining of the joint structures so they appear white in the image. This helps your doctor make a diagnosis and proceed with treatment.
Enterography in South Denver
An enterography exam generates high-resolution images of the abdominal organs and small intestine. This noninvasive procedure helps doctors address bleeding, obstruction, inflammation and other gastrointestinal issues.
Professionals can perform enterography scans in CT or MRI form, depending on the referring physician's specifications. Before the exam, a radiologist administers intravenous and oral contrast material to highlight the small intestine. They may also administer a drug to decrease bowel movement that can interfere with imaging.
CT angiography in South Denver
During CT angiography (CTA), a radiologist injects a special dye into your hand or arm before a CT scan. This creates brighter, clearer images of blood vessels and tissues. CTAs help identify irregularities like tumors, clots and aneurysms.
High-field wide bore MRIs in South Denver
High-field (1.5T) wide bore MRI scans are essentially traditional MRI machines with higher magnet strength. Considered the industry standard, they feature more space inside the bore area and take about 30-60 minutes to complete the scan.
MRI (3T) in South Denver
High-field (3T) MRI scans feature twice the strength of 1.5T machines. Depending on the exam, the scan can be as quick as 15-20 minutes.
MRAs in South Denver
A magnetic resonance angiogram (MRA) scan is a type of MRI that produces detailed images of blood vessels in your legs, neck, kidneys and brain. Doctors use this imaging to detect blood vessel-related problems, like aneurysms, clots and calcium deposits.
Prostate MR in South Denver
A prostate MR procedure uses magnetic resonance technology to examine the prostate and detect cancers. It can also identify abnormalities at birth, post-pelvic surgery complications, prostate infection and benign prostatic hyperplasia. This exam is noninvasive and painless.
Pain injections in South Denver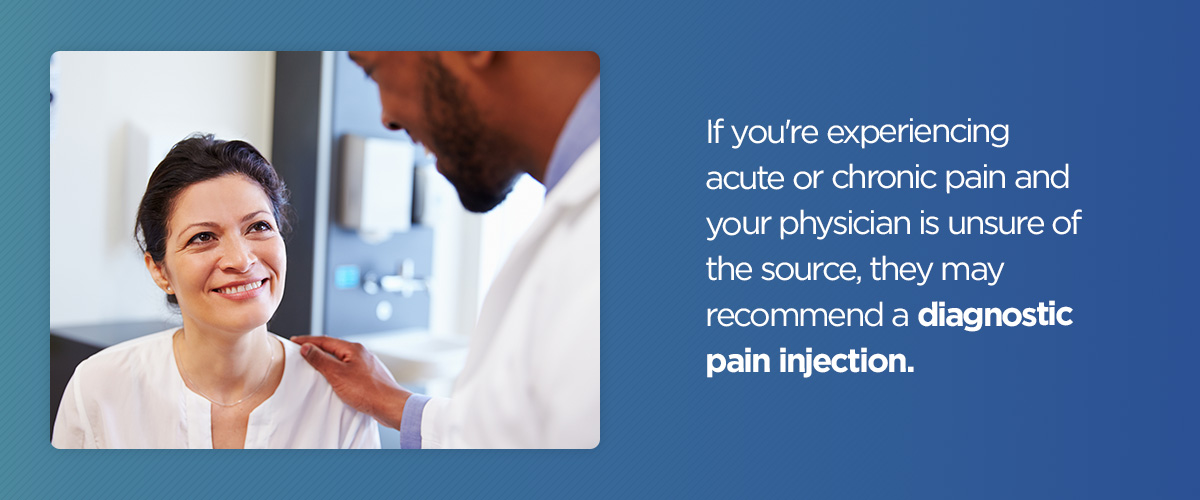 If you're experiencing acute or chronic pain and your physician is unsure of the source, they may recommend a diagnostic pain injection. This can be useful for unexplained joint pain, chronic headaches and face or mouth pain.
This injection provides short-term relief and helps your doctor form a diagnosis. After determining the cause, they can develop a treatment plan based on your symptoms.
Why choose Health Images?
We're becoming Colorado's go-to provider of radiology services for a reason. The moment you walk through our doors, you'll experience the Health Images difference. We focus on providing friendly, hospitable services paired with a high level of patient care.
Our patient-centric approach to diagnostic imaging ensures you'll enjoy a variety of advantages, including:

Advanced imaging equipment: The medical imaging industry is moving forward at a rapid rate as technology continues to advance. To ensure our patients get the best quality images, we outfit our imaging centers with the latest equipment.

Speedy results: Waiting for diagnostic imaging results can be a nerve-wracking process. That's why we get your results into the hands of your physician as soon as possible — sometimes on the same day as your procedure.

Friendly and knowledgeable radiology team: Medical imaging has a reputation for being cold and impersonal. Our team of radiologists is highly skilled and knowledgeable, and they pair this with friendly and warm service.

Patient satisfaction: As patients experience the Health Images difference, they realize what's earned us our stellar reputation in the communities we serve. We strive to ensure every person who comes to us leaves fully satisfied with their experience.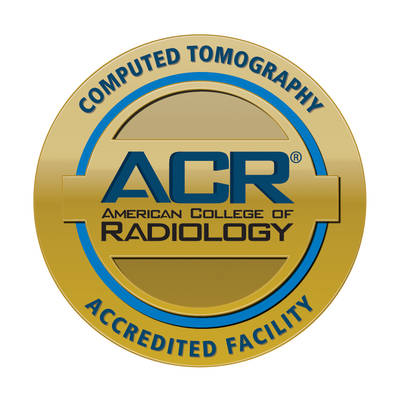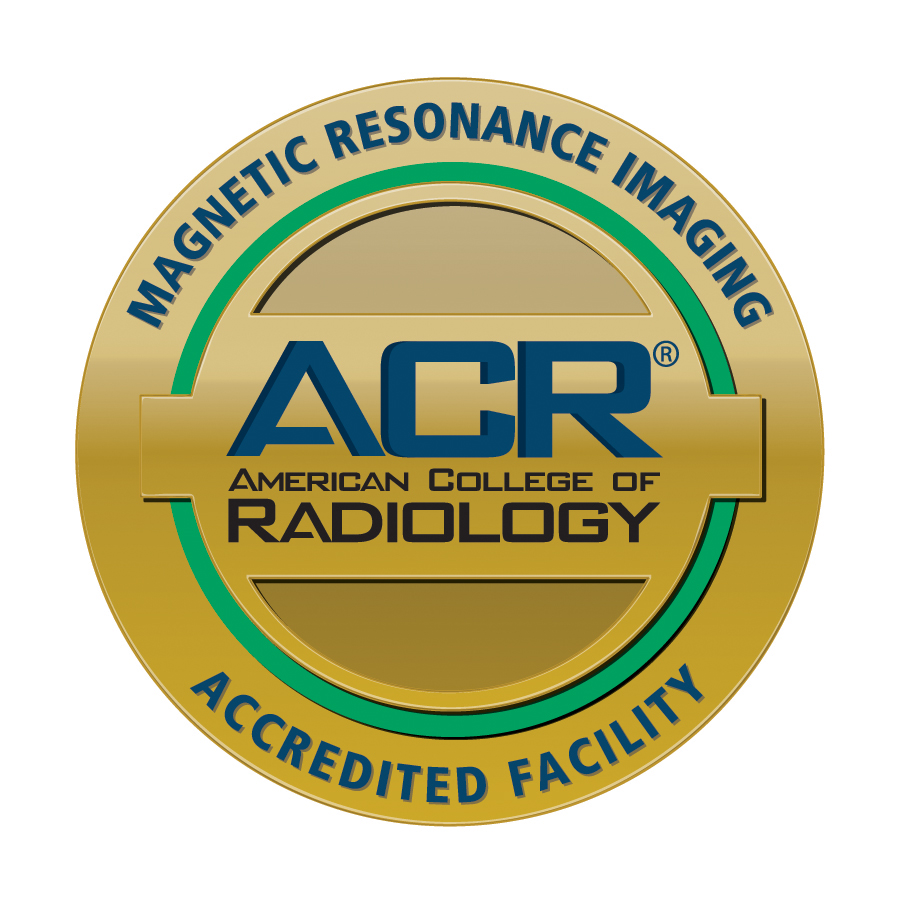 Request an appointment in Parker today
We're pleased to welcome patients in Parker and throughout South Denver to experience the same quality services you'll find at all of our Health Images locations. To request your appointment at Health Images in South Denver, please call the center directly at (303) 577-4000.
We look forward to serving you soon.
Call Us: (303) 577-4000