Navigating the Referral Process for Imaging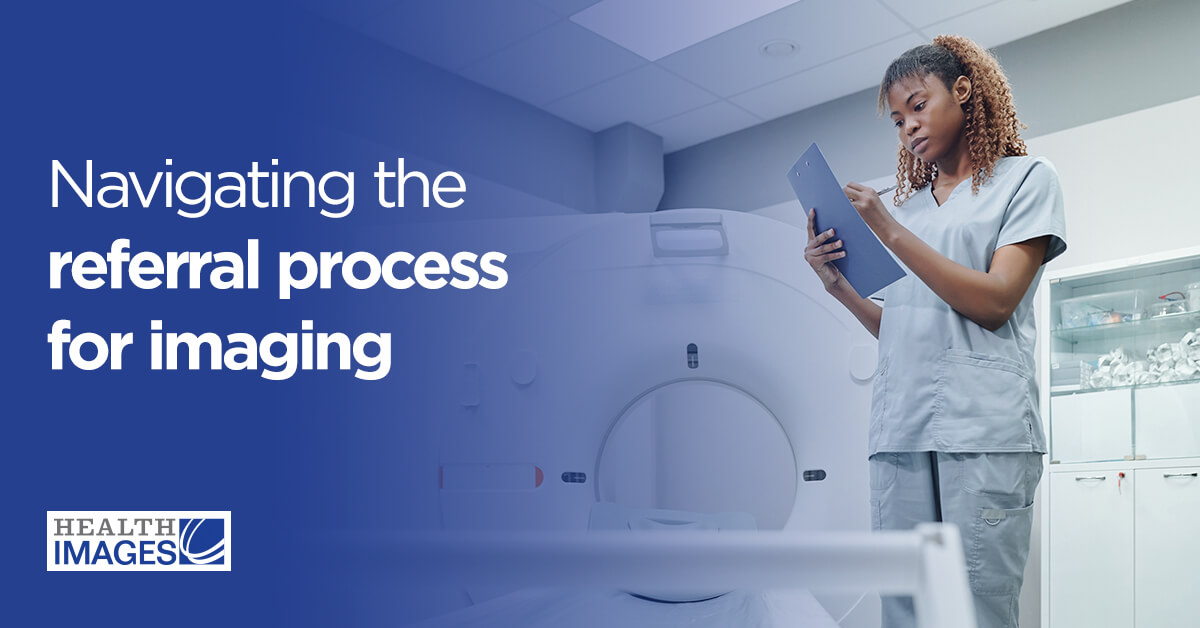 Imaging services like CT scans, MRIs and x-rays are vital healthcare procedures individuals undergo to understand a health issue better. When you need one of the procedures done, having a referral from your doctor is often essential. The referral will ensure you can undergo the imaging and have it covered by your health insurance.
The referral process for imaging can be challenging, so here's a guide to help you understand the process and learn why imaging tests require referrals.
What is a referral?
A referral is a written and documented order from your physician to see a specialist or receive medical services, like imaging. Many insurance companies require referrals to confirm the procedures are necessary for the patient's health and wellness. Insurance companies don't want to pay for an unnecessary test. With a documented statement from the treating physician, insurance companies can allocate the appropriate funds according to a patient's insurance policy.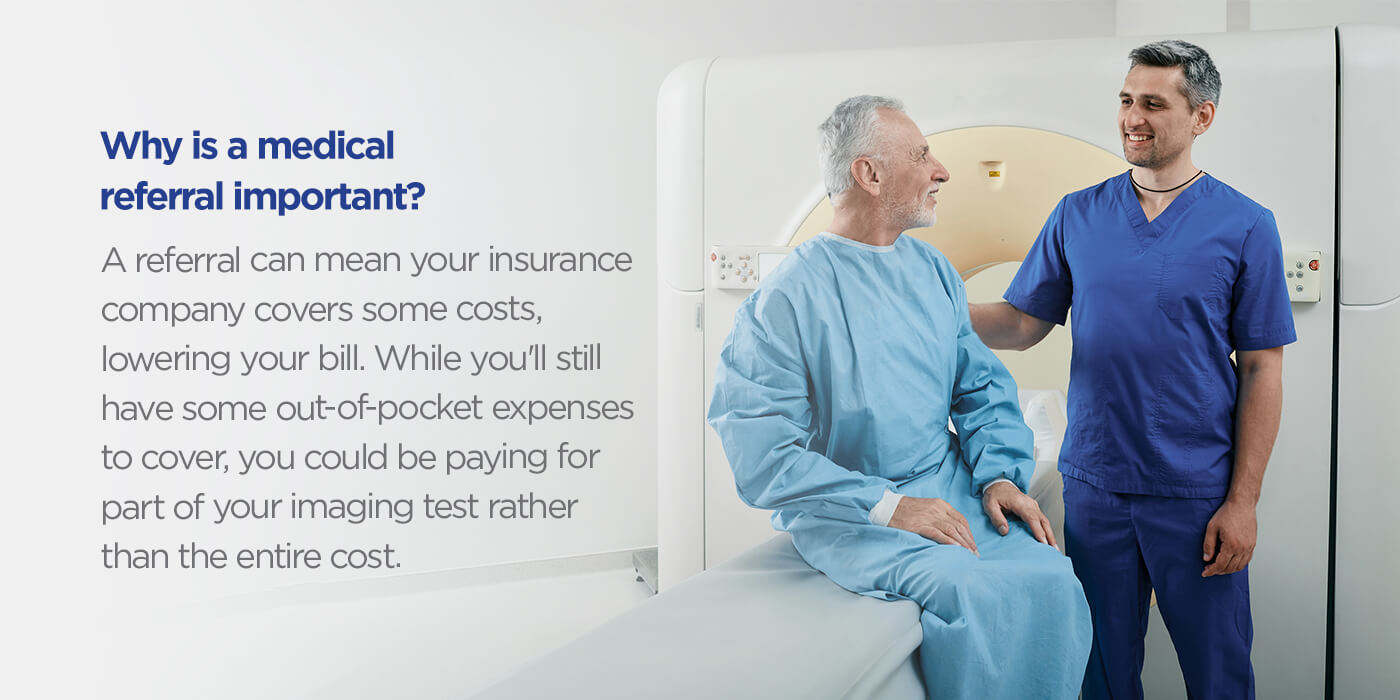 Why is a medical referral important?
Referrals can sometimes be the deciding factor for people who need imaging tests. MRIs, CT scans and x-rays vary in cost, but most tests are more expensive than many people can afford. While it depends on your policy, most healthcare insurance can help cover part of the imaging cost. The amount you pay often depends on if you've met your deductible.
If you don't have insurance or your insurance denies coverage because you don't have a referral, you could pay a lot out of pocket. A referral can mean your insurance company covers some costs, lowering your bill. While you'll still have some out-of-pocket expenses to cover, you could be paying for part of your imaging test rather than the entire cost. That financial reason alone is enough for many to ensure they receive a referral before going for an MRI, CT scan or x-ray.
Do you need a referral for MRIs, CT scans or x-rays?
Although referrals are an insurance requirement, they also help ensure people who medically need imaging tests can get them. MRIs, CT scans and x-rays are important procedures for people with concerning health issues. While there are some instances where you could get one of the imaging tests done without a referral, at most medical facilities, you will need a referral for CT scans, x-rays and MRIs.
Often, your insurance type determines if you need a referral. Health maintenance organization (HMO) and point of service (POS) plans require you to receive a referral from your primary care physician, while preferred provider organization (PPO) and exclusive provider organization (EPO) don't.
You can work with your physician to determine if your insurance will need a referral. If it does, your doctor can send one in your insurance's preferred way, whether in writing or over the phone. You may also have the referral sent to the imaging location of your choice or take a physical copy with you during your appointment.
How can you obtain a referral for imaging?
Whether you need a CT scan, MRI or x-ray, the process for obtaining a referral is the same. Here are the steps you can take to get a referral for your insurance before going through an imaging test.
1. Visit your primary care physician
If your insurance requires a referral from your doctor, the first step you must take is to schedule an appointment and visit your doctor. Talk with your physician about your medical history and why an imaging test is necessary. Your doctor may recommend a specific facility to get your testing done, but you can discuss your preferred location.
Ultimately, you have control over the place you go to for imaging testing. Just keep in mind your insurance network, as that can determine whether your plan provides coverage for your tests.
2. Have your physician send a referral to your insurance
Once you determine your requirements for testing and where you can go, your doctor will write a referral and send it to your insurance for approval. Some plans may also require a pre-authorization to ensure the imaging test is something you truly need and will help care for your health. Double-check with your physician and insurance to see if you need a pre-authorization in addition to your referral.
The approval process could take some time, so ensure you wait to schedule your imaging test until you receive the results from the referral.
3. Upon approval, request an appointment
After you receive confirmation your insurance accepted the referral, you can go ahead and request an appointment at an imaging testing facility. Your doctor's order can help you get a scan when needed. The timing for your CT scan, MRI or x-ray depends on the imaging center's schedule.
Most imaging centers will work with your physician and insurance provider to ensure the necessary documentation is acquired before setting dates and appointments.
What happens after the imaging test?
Once you schedule an appointment for your medical imaging test, the referral process is complete. After your scan, the technologist at the imaging center will send your report to your physician. Through another meeting or over the phone, your doctor will discuss the results with you and determine if you need further treatment.
The referral process is a step toward finding the answers you seek regarding your health.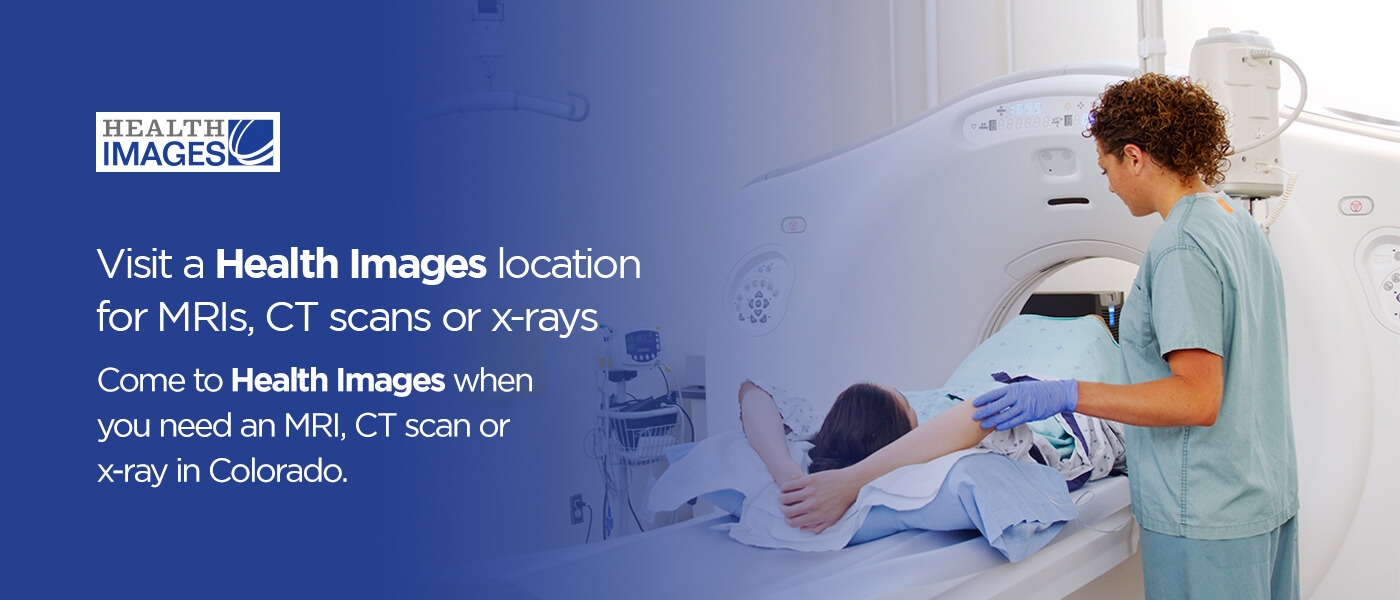 Visit a Health Images location for MRIs, CT scans or x-rays
Come to Health Images when you need an MRI, CT scan or x-ray in Colorado. We have multiple locations in the Denver, Boulder, Castle Rock and Longmont areas and beyond so you can receive care near you. Our technologists are ready to provide noninvasive imaging tests like x-rays, MRIs and CT scans to help you and your physician better understand what is causing your health issues.
Health Images provides consistent and efficient medical imaging. You'll receive excellent patient care and service while undergoing testing with the latest technology. We are proactive in staying up to date with the industry and technology, so you will always receive the most current and comprehensive services when you visit us in the Denver area.
Our imaging centers throughout Colorado ensure every patient receives top-quality services with personalized and dedicated attentiveness. As a privately and locally owned imaging center, we hand-select every staff member to maintain a highly professional and qualified team that will work to meet your needs.
The next time you need medical imaging, visit Health Images. You can find a center near you to request an appointment today.
Sources: