October Is National Breast Cancer Awareness Month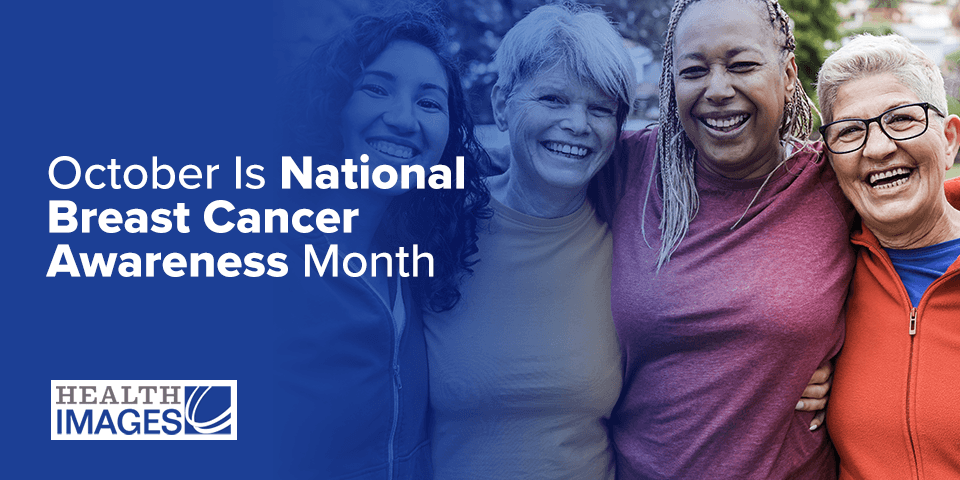 When October arrives, so does the annual campaign to bring awareness to the impact of breast cancer. Following a challenging year for many families, breast cancer prevention is more vital than ever. Last year, breast cancer screenings declined by 87%, so 2021 is crucial to remind women about early detection.
In the United States alone, one in eight women will develop breast cancer in their lifetime. An estimated 330,840 mothers, grandmothers, wives, sisters, aunts and friends are expected to be diagnosed with breast cancer in 2021. This year, another 2,650 men will also receive a breast cancer diagnosis. Our job as a community is to take charge of our health and rise against breast cancer together — starting this October and beyond.
The Mission Behind Breast Cancer Awareness Month
The purpose of Breast Cancer Awareness Month is to save thousands of lives from a deadly disease. By increasing the community's knowledge of breast health and sharing the importance of regular screenings, we can improve the breast cancer survival rate.
Through measures like monthly breast self-exams, regular clinical exams and mammograms, early detection significantly impacts patient outcomes. When localized breast cancer is detected early, the 5-year survival rate is 99%.
The efforts during Breast Cancer Awareness Month are aimed towards:
Encouraging diagnostic screenings
Raising awareness about the impact of the disease
Funding mammograms for women with low income
Reaching vulnerable women in the community
Distributing breast health education to underserved communities
What to Do for Breast Cancer Awareness Month
Joining millions of people in the fight against breast cancer can help save lives and bring the world one step closer to finding a cure. Make a difference this October with these meaningful Breast Cancer Awareness Month ideas:
1. Raise Awareness
No matter how much time or money you have to contribute towards breast cancer awareness, you always have a voice. Spend the month of October reminding all of the people in your life about the importance of breast health and diagnostic screenings.
Raising awareness can come in many forms, such as: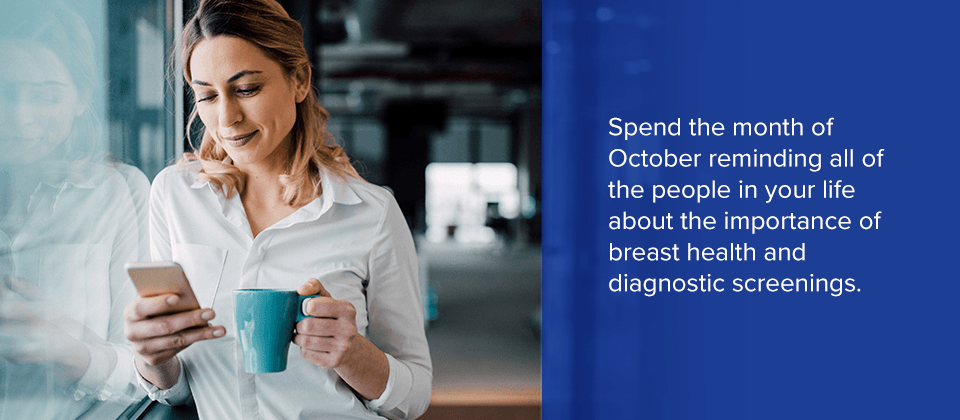 Posting educational articles on social media
Sharing breast cancer facts and statistics
Helping a loved one schedule a mammogram
Teaching your daughters how to perform a breast self-exam
Telling people how breast cancer has impacted your life
Wearing pink to show your support
2. Support Your Local Charities
Countless organizations are working together in the fight against breast cancer. Donating to highly-rated breast cancer charities will help support patients and their families throughout the treatment and recovery process and fund research to end the disease.
If you'd like to be more involved, countless fundraising events are hosted across the country every year. For example, you can sign up for a 5K or buy tickets to a local dinner to raise money for breast cancer patients and research.
If donating money is out of your budget, you can still contribute by donating your time. These organizations rely on volunteers to help them raise money, particularly if they're a nonprofit. Consider sign-up to cook a meal or sell tickets at a local fundraising event.
3. Plan a Fundraiser
If there aren't any fundraisers scheduled near your community, you can plan your own! Partner with the breast cancer charity of your choice to rally your community during Breast Cancer Awareness Month. If you know someone in your community with breast cancer, you could think about donating whatever you raise to their treatment instead. Either way, you're making a difference.
A fundraiser like a car wash or bake sale can go a long way. If you want to take it to the next level, you could organize a community auction or racing event. Planning your own fundraiser will help raise awareness and encourage your community to unite against breast cancer.
4. Offer Your Support
Even small acts of kindness make an impact during Breast Cancer Awareness Month. If you know someone battling breast cancer, reach out and offer your support. For instance, you may want to cook dinner for their family or watch their children for an afternoon.
Often, cancer treatments cause pain and exhaustion, which makes it challenging to keep up with life. Helping someone with cancer catch up on their responsibilities boosts their morale and encourages them to focus on healing.
5. Perform a Breast Self-Exam
If you're unfamiliar with breast self-examination, you can adopt the habit this October and start checking your breasts once per month. These simple checks detect the first signs of breast cancer 40% of the time. As a result, women of all ages improve their chances of early detection by regularly checking for lumps.
Taking a few seconds each month to perform a breast self-examination could save your life. Here's how you do it:
Shower Exam: While you're in the shower, take a few moments to check your breasts for lumps. Lift your arm behind your head, so your entire breast is easily accessible. Using the pads of your three middle fingers, lightly press around your breast and armpit area. Feel for anything unusual like thickening, hardened knots or lumps. If you check regularly, you're more likely to notice changes in your breast soon after they develop.
Mirror Exam: A visual inspection will also help identify changes in your breasts. While in front of a mirror, inspect your breasts with your arms at your sides. Then, raise your arms high above your head. Look for any unusual dimples, swelling, contours or puckering. Finally, lower your arms and press the palms of your hands firmly into your hips to flex your chest muscles. Look for the same changes as before. Most women's breasts are slightly different sizes. Still, look for any unusual formations from one side to the other.
Exam lying down: When you lay down, your breast tissue spreads evenly across your chest, which allows you to inspect them even closer. With a pillow underneath your right shoulder, lift your right arm above your head and use your left hand to press around your entire breast and armpit area gently. Check for any unusual lumps or discharge from your nipples. Repeat the same steps on the opposite side for your left breast.
6. Visit Health Images for your mammogram
Combining breast exams with regular clinical exams and mammograms gives women the best chance of early detection. In fact, mammography can catch tumors before they're large enough to feel. Scheduling yearly screenings is vital for recognizing breast cancer at the earliest stage.
If you notice any lumps or changes to your breast tissue, schedule a visit with Health Images right away.
Schedule Your Mammograms
At Health Images, we applaud you for prioritizing your breast health by scheduling a mammogram. At your appointment, our compassionate team of clinicians will guide you through the short procedure, so it's over before you know it. A straightforward yearly mammogram could save your life.
Find a location near you to schedule your mammogram at Health Images today!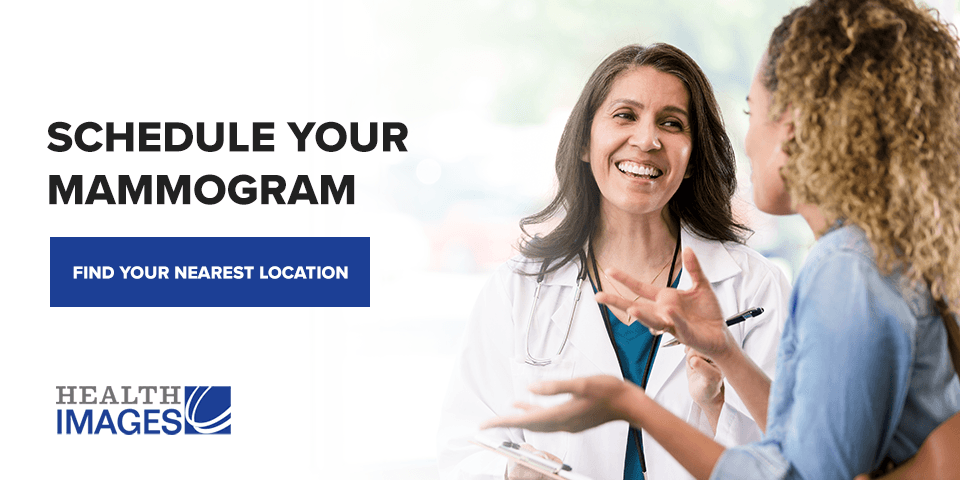 Linked Sources:
https://www.breastcancer.org/symptoms/understand_bc/statistics
https://www.sciencedirect.com/science/article/pii/S0091743521001432
https://www.nationalbreastcancer.org/early-detection-of-breast-cancer/
https://www.charitynavigator.org/index.cfm?bay=content.view&cpid=497
https://www.nationalbreastcancer.org/breast-self-exam
https://www.healthimages.com/why-you-should-schedule-your-mammogram/
https://www.healthimages.com/services/mammography/